Today, most of the workforce is working from home and accessing remote services.
While users are authenticated, networks are encrypted and services are secure, devices have become the weakest link for securing access. Infinipoint, which is leading the emerging Device Identity as a Service (DiaaS) category to enable Zero Trust access posture for devices, provides device-based, conditional access as part of the SSO authentication process, for every service and application including SaaS cloud, VPN, CASB, IaaS Console, AWS and more.
Infinipoint's DIaaS Auth Node provides device-based conditional access by limiting access with device checks and enabling user productivity with self-service 1-click-remediation that fixes the device in real-time and provides immediate access. This allows a device identity and security posture check as part of the ForgeRock authentication flow.
A Unified Enforcement Point for User and Device Identity
ForgeRock and Infinipoint naturally complement each other with the ability to provide fully customizable user-identity checks and fully customizable device-identity and posture checks in real time, upon user access via SSO. With a market zeroing in on the Zero Trust security model, joining forces with the Infinipoint DIaaS solution enables ForgeRock to seamlessly enrich Its offering with device context, risk assessment and remediation, all as part of the ForgeRock authentication.
"Our customers understand the importance of Zero Trust and Identity working together. Leveraging device posture to achieve real-time continuous authorization is essential for any modern Zero Trust implementation," said Ben Goodman, senior vice president, global business and corporate development, ForgeRock. "By leveraging the device visibility Infinipoint provides, ForgeRock's Intelligent Access can dynamically adjust a user's authentication experience and level of access to align with their degree of risk. Infinipoint can remediate issues of device risk before ForgeRock will allow access to a protected resource."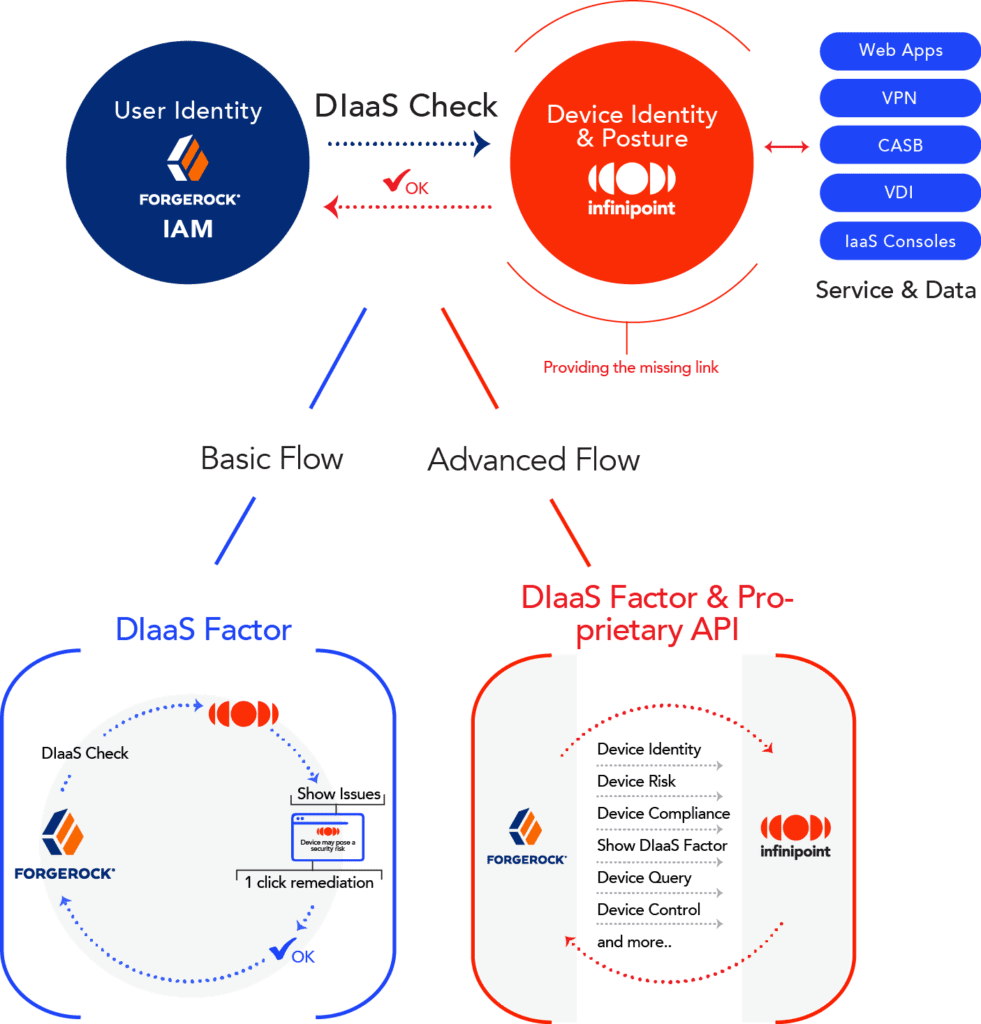 Leading use-cases include:
Smart Biometric/WebAuthN enforcement for supported devices.
SASE FastPass access to SaaS applications for compliant devices.
More Information
The Infinipoint Auth Tree Node is available on the ForgeRock Marketplace.
Read the Infinipoint and ForgeRock joint value proposition.
---